Republican Assembly Whip and Vice Chair of the Assembly Committee on Agriculture
Location: Sacramento and Fresno DMAs
Availability: On-camera, in-studio, phone, FaceTime
Topics of Expertise: State politics, state water policy, agriculture, and veterans issues.
Bio: In November 2014, Devon Mathis was elected to represent California's 26th Assembly District, which encompasses Tulare, Inyo and a portion of Kern Counties. Devon joined the United States Army National Guard where he served as Sergeant for nearly 10 years, including 2 combat tours to Iraq. During Devon's second tour in Iraq, he sustained major injuries from a roadside bomb attack in 2008 which earned him a Purple Heart. After returning home, Devon went through extensive VA therapy. This road to recovery prepared him for a return to civilian life and to his college success. In 2012, Devon met his wife Aubrey. They combined their families in 2014 and welcomed a set of twins, Maggie and Jefferson on December 1, 2014, roughly 9 hours before Devon was sworn into office as a California Assemblyman. The Mathis family has made their home in Visalia, Calif.
Points of Interest: Devon has spent much of his tenure in the California Assembly helping over 10,000 residents of East Porterville who spent California's drought without running water.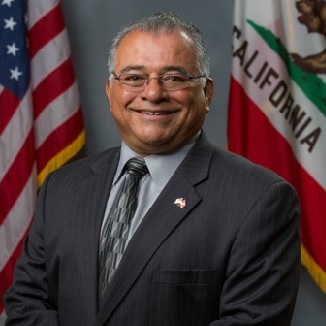 Candidate for Mayor of Oceanside, Calif. and former California Assemblyman
Location: San Diego DMA
Availability: On-camera, in-studio, and phone
Topics of Expertise: local, state, national, and international politics, the military, education, and veterans issues.
Bio: Rocky Chávez began his public service career immediately after graduation from California State University, Chico when he joined the United States Marine Corps. He spent more than 28 years as a United States Marine, rising to the rank of Colonel and being assigned Chief of Staff for the 4th Marine Division.
Upon retiring from the Marine Corps, Rocky continued his legacy of public service by founding the School of Business and Technology, a charter High School in the Oceanside Unified School District. He served as the school's Director from 2002-2008.
In November of 2002, Rocky was elected to the Oceanside City Council. In 2009, Rocky was appointed by then-Governor Arnold Schwarzenegger and made the journey to Sacramento to serve as Undersecretary of the California Department of Veterans Affairs. He later served as Acting Secretary.
Rocky was first elected on November 6, 2012 to represent the 76th Assembly District. Rocky also sits on the Governor's Military Council and serves as a member of the State Allocation Board.